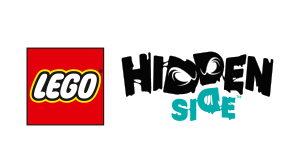 All LEGO® Hidden Side™ Sets
LEGO Hidden Side
LEGO® Hidden Side™ creates an entirely new LEGO themed world by merging a creative building and engineering toy with a specially designed AR app. The LEGO® Hidden Side™ sets take us into a creative, exciting world of ghosts. The main character, Jack Davids, moves to the tranquil small town of Newbury and tries to fit in as best he can. But Newburry is threatened with takeover by dangerous, terrifying ghosts and only Jack and his friend Parken can use an app to track down the ghosts and defeat them.
Rebuild the new Hidden Side™ sets and join Jack and Parker on an adventurous ghost hunt - if you dare.
The AR app for a completely new play experience
Through the LEGO® Hidden Side™ sets, LEGO offers a whole new way to play, thanks to digital augmented reality (augmented reality) app. By downloading this app, we will be able to see and fight the nasty ghosts of Newburry through our smartphone. The app runs on all mobile devices with Android 7.0, as well as Apple smartphones and tablets with IOS 11.0 or later. You can download the app for free here. But even without the app, the Hidden Side™ sets offer a truly rewarding building experience with new design elements, extraordinary ghost minifigures and an exciting new LEGO themed world.