Aktuell haben wir eine Vielzahl an Angeboten und GWPs. Alle unsere Aktionen findest Du hier!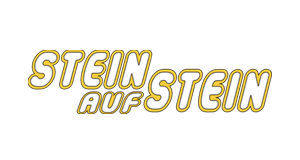 Stein auf Stein: sei dabei wenn Michael mit Untersützung seiner Frau Christina eine LEGO-Stadt entstehen lässt!
Michael, Baujahr 1977 und begeisterter AFOL (Adult Fan of LEGO) ist mit seiner Frau Christina vor kurzem in die Gruppe der Recognised LEGO Fan Media aufgenommen worden; ein Ritterschlag für die beiden und ihren YouTube Kanal!
In unzähligen Videos kann man dort die Entstehung und Vergrößerung seiner LEGO-Stadt verfolgen, sich Bautipps holen oder den Kollegen von Stein auf Stein einfach beim bauen zuschauen.
In Zusammenarbeit mit Michael und Christina sind jetzt einige Merchandise Artikel entstanden, die exklusiv hier bei uns gekauft werden können. Mit dem kauf der Fliesen, Steine oder der Figur unterstützt du direkt ihre Arbeit!
Zum Start des Merchandise Programms sind außerdem Artikel von folgenden Partnern verfügbar:
Stonewars.de
Der Spielwareninvestor
Bricks of Maze
Stein auf Stein recognised LEGO Fanmedia
Austrian Brick Fan
Weitere Merchandise-Artikel ausgewählter und bekannter Partnerseiten folgen in Kürze!
{"images":{"all":[{"urlMiddle":"https:\/\/cdn03.plentymarkets.com\/3jhnoljv5wfx\/item\/images\/648653993\/middle\/648653993-LEGO-Stein-auf-Stein-Merchandise-bedruckte-2x4-Fliese.jpg","names":{"lang":"de","imageId":16171,"name":"","alternate":""},"path":"S3:648653993:648653993-LEGO-Stein-auf-Stein-Merchandise-bedruckte-2x4-Fliese.jpg","position":0,"cleanImageName":"648653993-LEGO-Stein-auf-Stein-Merchandise-bedruckte-2x4-Fliese.jpg"},{"names":{"lang":"de","imageId":16389,"alternate":"","name":""},"path":"S3:648653993:648653993-LEGO-Stein-auf-Stein-Merchandise-bedruckte-2x4-Fliese_1.jpg","position":1,"urlMiddle":"https:\/\/cdn03.plentymarkets.com\/3jhnoljv5wfx\/item\/images\/648653993\/middle\/648653993-LEGO-Stein-auf-Stein-Merchandise-bedruckte-2x4-Fliese_1.jpg","cleanImageName":"648653993-LEGO-Stein-auf-Stein-Merchandise-bedruckte-2x4-Fliese_1.jpg"}],"variation":[]},"item":{"id":648653993,"storeSpecial":null,"manufacturerId":6,"itemType":"default","manufacturer":{"position":0,"externalName":"JB Spielwaren"},"rebate":0,"salableVariationCount":0,"customsTariffNumber":"","producingCountry":{"names":[]},"condition":{"names":[]}},"texts":{"urlPath":"stein-auf-stein-merchandise-bedruckte-2x4-fliese","name3":"Stein auf Stein Merchandise - bedruckte 2x4 Fliese g\u00fcnstig kaufen | jb-spielwaren.de","name2":"Stein auf Stein Merchandise - bedruckte 2x4 Fliese","lang":"de","name1":"Stein auf Stein Merchandise - bedruckte 2x4 Fliese"},"defaultCategories":[{"level":3,"id":537,"type":"item","sitemap":true,"linklist":true,"right":"all","parentCategoryId":729,"updatedAt":"2023-06-23T13:24:20+02:00","manually":true,"plentyId":11639}],"variation":{"itemId":648653993,"availabilityId":1,"stockLimitation":1,"maximumOrderQuantity":null,"minimumOrderQuantity":1,"intervalOrderQuantity":1,"releasedAt":"2021-08-02T00:00:00+02:00","name":"","vatId":0,"bundleType":null,"mayShowUnitPrice":false,"availability":{"names":{"id":233,"updatedAt":"2023-01-20 08:09:42","lang":"de","availabilityId":1,"name":"Sofort lieferbar. Lieferzeit aktuell 2-3 Werktage.","createdAt":"2023-01-20 08:09:42"},"createdAt":"2019-08-07 11:02:50","id":1,"averageDays":3,"icon":"av1.gif","updatedAt":"2022-09-06 08:17:51"},"id":9212,"availabilityUpdatedAt":"2022-11-10T14:41:59+01:00","model":""},"filter":{"isSalable":false,"isSalableAndActive":false,"hasActiveChildren":false,"hasChildren":false},"unit":{"names":{"unitId":1,"lang":"de","name":"St\u00fcck"},"unitOfMeasurement":"C62","content":1},"hasOrderProperties":false,"hasRequiredOrderProperty":false,"properties":[],"groupedAttributes":[],"prices":{"default":{"price":{"value":1.99,"formatted":"1,99\u00a0EUR"},"unitPrice":{"value":1.99,"formatted":"1,99\u00a0EUR"},"basePrice":"","baseLot":null,"baseUnit":null,"baseSinglePrice":null,"minimumOrderQuantity":1,"contactClassDiscount":{"percent":0,"amount":0},"categoryDiscount":{"percent":0,"amount":0},"currency":"EUR","lowestPrice":{"value":null,"formatted":""},"vat":{"id":0,"value":19},"isNet":false,"data":{"salesPriceId":1,"price":1.99,"priceNet":1.672268907563,"basePrice":1.99,"basePriceNet":1.672268907563,"unitPrice":1.99,"unitPriceNet":1.672268907563,"lowestPrice":null,"lowestPriceNet":null,"customerClassDiscountPercent":0,"customerClassDiscount":0,"customerClassDiscountNet":0,"categoryDiscountPercent":0,"categoryDiscount":0,"categoryDiscountNet":0,"vatId":0,"vatValue":19,"currency":"EUR","interval":"none","conversionFactor":1,"minimumOrderQuantity":"1.00","updatedAt":"2021-07-02 01:25:46","type":"default","pricePosition":"1"}},"rrp":{"price":{"value":1.99,"formatted":"1,99\u00a0EUR"},"unitPrice":{"value":1.99,"formatted":"1,99\u00a0EUR"},"basePrice":"","baseLot":null,"baseUnit":null,"baseSinglePrice":null,"minimumOrderQuantity":1,"contactClassDiscount":{"percent":0,"amount":0},"categoryDiscount":{"percent":0,"amount":0},"currency":"EUR","lowestPrice":{"value":null,"formatted":""},"vat":{"id":0,"value":19},"isNet":false,"data":{"salesPriceId":7,"price":1.99,"priceNet":1.672268907563,"basePrice":1.99,"basePriceNet":1.672268907563,"unitPrice":1.99,"unitPriceNet":1.672268907563,"lowestPrice":null,"lowestPriceNet":null,"customerClassDiscountPercent":0,"customerClassDiscount":0,"customerClassDiscountNet":0,"categoryDiscountPercent":0,"categoryDiscount":0,"categoryDiscountNet":0,"vatId":0,"vatValue":19,"currency":"EUR","interval":"none","conversionFactor":1,"minimumOrderQuantity":"1.00","updatedAt":"2021-07-02 01:25:46","type":"rrp","pricePosition":"1"}},"set":null,"specialOffer":null,"graduatedPrices":[{"price":{"value":1.99,"formatted":"1,99\u00a0EUR"},"unitPrice":{"value":1.99,"formatted":"1,99\u00a0EUR"},"basePrice":"","baseLot":null,"baseUnit":null,"baseSinglePrice":null,"minimumOrderQuantity":1,"contactClassDiscount":{"percent":0,"amount":0},"categoryDiscount":{"percent":0,"amount":0},"currency":"EUR","lowestPrice":{"value":null,"formatted":""},"vat":{"id":0,"value":19},"isNet":false,"data":{"salesPriceId":1,"price":1.99,"priceNet":1.672268907563,"basePrice":1.99,"basePriceNet":1.672268907563,"unitPrice":1.99,"unitPriceNet":1.672268907563,"lowestPrice":null,"lowestPriceNet":null,"customerClassDiscountPercent":0,"customerClassDiscount":0,"customerClassDiscountNet":0,"categoryDiscountPercent":0,"categoryDiscount":0,"categoryDiscountNet":0,"vatId":0,"vatValue":19,"currency":"EUR","interval":"none","conversionFactor":1,"minimumOrderQuantity":"1.00","updatedAt":"2021-07-02 01:25:46","type":"default","pricePosition":"1"}}]},"facets":[],"attributes":[]}

Stein auf Stein Merchandise - bedruckte 2x4 Fliese

{"images":{"all":[{"names":{"imageId":16170,"lang":"de","name":"","alternate":""},"urlMiddle":"https:\/\/cdn03.plentymarkets.com\/3jhnoljv5wfx\/item\/images\/648653992\/middle\/648653992-LEGO-Stein-auf-Stein-Merchandise-bedruckte-1x4-Fliese.jpg","path":"S3:648653992:648653992-LEGO-Stein-auf-Stein-Merchandise-bedruckte-1x4-Fliese.jpg","position":0,"cleanImageName":"648653992-LEGO-Stein-auf-Stein-Merchandise-bedruckte-1x4-Fliese.jpg"},{"names":{"alternate":"","imageId":16390,"name":"","lang":"de"},"urlMiddle":"https:\/\/cdn03.plentymarkets.com\/3jhnoljv5wfx\/item\/images\/648653992\/middle\/648653992-LEGO-Stein-auf-Stein-Merchandise-bedruckte-1x4-Fliese_1.jpg","position":1,"path":"S3:648653992:648653992-LEGO-Stein-auf-Stein-Merchandise-bedruckte-1x4-Fliese_1.jpg","cleanImageName":"648653992-LEGO-Stein-auf-Stein-Merchandise-bedruckte-1x4-Fliese_1.jpg"}],"variation":[]},"item":{"id":648653992,"storeSpecial":null,"manufacturerId":6,"itemType":"default","manufacturer":{"position":0,"externalName":"JB Spielwaren"},"rebate":0,"salableVariationCount":1,"customsTariffNumber":"","producingCountry":{"names":[]},"condition":{"names":[]}},"texts":{"urlPath":"stein-auf-stein-merchandise-bedruckte-1x4-fliese","name3":"Stein auf Stein Merchandise - bedruckte 1x4 Fliese g\u00fcnstig kaufen | jb-spielwaren.de","name2":"Stein auf Stein Merchandise - bedruckte 1x4 Fliese","lang":"de","name1":"Stein auf Stein Merchandise - bedruckte 1x4 Fliese"},"defaultCategories":[{"level":3,"id":537,"type":"item","sitemap":true,"linklist":true,"right":"all","parentCategoryId":729,"updatedAt":"2023-06-23T13:24:20+02:00","manually":true,"plentyId":11639}],"variation":{"itemId":648653992,"availabilityId":1,"stockLimitation":1,"maximumOrderQuantity":null,"minimumOrderQuantity":1,"intervalOrderQuantity":1,"releasedAt":"2021-08-02T00:00:00+02:00","name":"","vatId":0,"bundleType":null,"mayShowUnitPrice":null,"availability":{"names":{"id":233,"updatedAt":"2023-01-20 08:09:42","lang":"de","availabilityId":1,"name":"Sofort lieferbar. Lieferzeit aktuell 2-3 Werktage.","createdAt":"2023-01-20 08:09:42"},"createdAt":"2019-08-07 11:02:50","id":1,"averageDays":3,"icon":"av1.gif","updatedAt":"2022-09-06 08:17:51"},"id":9211,"availabilityUpdatedAt":"2021-08-08T20:56:17+02:00","model":""},"filter":{"isSalable":true,"isSalableAndActive":true,"hasActiveChildren":false,"hasChildren":false},"unit":{"names":{"unitId":1,"lang":"de","name":"St\u00fcck"},"unitOfMeasurement":"C62","content":1},"hasOrderProperties":false,"hasRequiredOrderProperty":false,"properties":[],"groupedAttributes":[],"prices":{"default":{"price":{"value":1.99,"formatted":"1,99\u00a0EUR"},"unitPrice":{"value":1.99,"formatted":"1,99\u00a0EUR"},"basePrice":"","baseLot":null,"baseUnit":null,"baseSinglePrice":null,"minimumOrderQuantity":1,"contactClassDiscount":{"percent":0,"amount":0},"categoryDiscount":{"percent":0,"amount":0},"currency":"EUR","lowestPrice":{"value":null,"formatted":""},"vat":{"id":0,"value":19},"isNet":false,"data":{"salesPriceId":1,"price":1.99,"priceNet":1.672268907563,"basePrice":1.99,"basePriceNet":1.672268907563,"unitPrice":1.99,"unitPriceNet":1.672268907563,"lowestPrice":null,"lowestPriceNet":null,"customerClassDiscountPercent":0,"customerClassDiscount":0,"customerClassDiscountNet":0,"categoryDiscountPercent":0,"categoryDiscount":0,"categoryDiscountNet":0,"vatId":0,"vatValue":19,"currency":"EUR","interval":"none","conversionFactor":1,"minimumOrderQuantity":"1.00","updatedAt":"2021-07-02 01:25:46","type":"default","pricePosition":"1"}},"rrp":{"price":{"value":1.99,"formatted":"1,99\u00a0EUR"},"unitPrice":{"value":1.99,"formatted":"1,99\u00a0EUR"},"basePrice":"","baseLot":null,"baseUnit":null,"baseSinglePrice":null,"minimumOrderQuantity":1,"contactClassDiscount":{"percent":0,"amount":0},"categoryDiscount":{"percent":0,"amount":0},"currency":"EUR","lowestPrice":{"value":null,"formatted":""},"vat":{"id":0,"value":19},"isNet":false,"data":{"salesPriceId":7,"price":1.99,"priceNet":1.672268907563,"basePrice":1.99,"basePriceNet":1.672268907563,"unitPrice":1.99,"unitPriceNet":1.672268907563,"lowestPrice":null,"lowestPriceNet":null,"customerClassDiscountPercent":0,"customerClassDiscount":0,"customerClassDiscountNet":0,"categoryDiscountPercent":0,"categoryDiscount":0,"categoryDiscountNet":0,"vatId":0,"vatValue":19,"currency":"EUR","interval":"none","conversionFactor":1,"minimumOrderQuantity":"1.00","updatedAt":"2021-07-02 01:25:46","type":"rrp","pricePosition":"1"}},"set":null,"specialOffer":null,"graduatedPrices":[{"price":{"value":1.99,"formatted":"1,99\u00a0EUR"},"unitPrice":{"value":1.99,"formatted":"1,99\u00a0EUR"},"basePrice":"","baseLot":null,"baseUnit":null,"baseSinglePrice":null,"minimumOrderQuantity":1,"contactClassDiscount":{"percent":0,"amount":0},"categoryDiscount":{"percent":0,"amount":0},"currency":"EUR","lowestPrice":{"value":null,"formatted":""},"vat":{"id":0,"value":19},"isNet":false,"data":{"salesPriceId":1,"price":1.99,"priceNet":1.672268907563,"basePrice":1.99,"basePriceNet":1.672268907563,"unitPrice":1.99,"unitPriceNet":1.672268907563,"lowestPrice":null,"lowestPriceNet":null,"customerClassDiscountPercent":0,"customerClassDiscount":0,"customerClassDiscountNet":0,"categoryDiscountPercent":0,"categoryDiscount":0,"categoryDiscountNet":0,"vatId":0,"vatValue":19,"currency":"EUR","interval":"none","conversionFactor":1,"minimumOrderQuantity":"1.00","updatedAt":"2021-07-02 01:25:46","type":"default","pricePosition":"1"}}]},"facets":[],"attributes":[]}

Stein auf Stein Merchandise - bedruckte 1x4 Fliese