From a purchase of 100 euros you get a 43101 Vidiyo figure for free!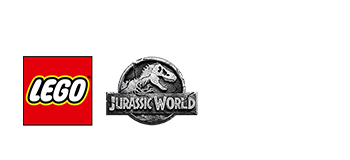 All LEGO® Jurassic World™ sets
LEGO Jurassic World
Go on a journey of discovery in a bygone era. The LEGO® Jurassic World™ sets bring all dinosaur fans powerful building fun through the many different dinosaur species to build yourself.
For all fans of the huge cinema success Jurassic World, the associated minifigures around Owen Grady are also popular collectibles. For LEGO fans of all ages, the LEGO® Jurassic World sets offer building fun on a wide range of levels - from role-playing with the heroic characters and villains, to building iconic buildings and awesome vehicles - there are no limits to creativity in this LEGO themed world!