LEGO® 21043 San Francisco
---
Description of the Lego Set 21043 San Francisco
The, 2019 released, set "San Francisco" from the Architecture series continues the Skyline series. Skyline should not be taken literally here, however. As in the other Skyline models, Skyline in this case refers to the style of presentation. Striking buildings and sights are arranged in the style of a skyline. For San Francisco, of course, the Golden Gate Bridge immediately comes to mind, which consequently also takes up a not insignificant part of the model. Directly below is the notorious prison island Alcatraz. On the left side is the city. In the foreground the "Painted Ladies", behind them you can see the typical hilly landscape with cablecars. In the last row, from left to right: 555 California Street, Bank of America Pyramid and Salesforce Tower.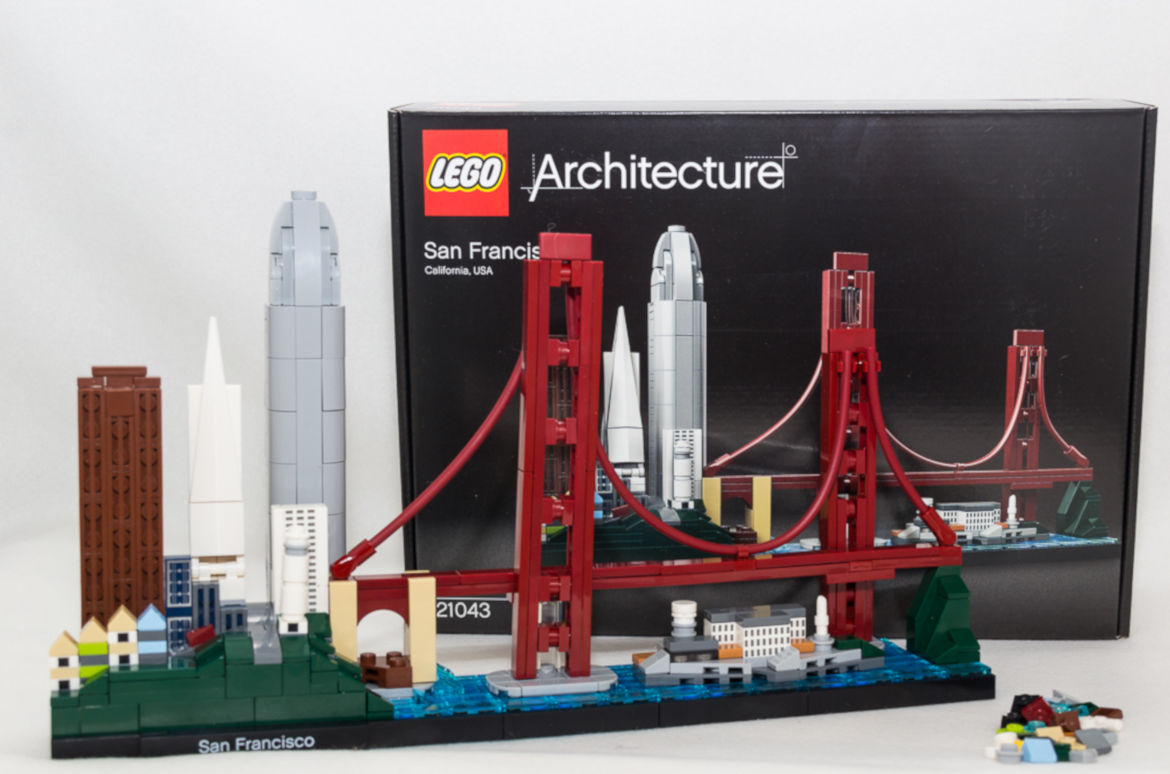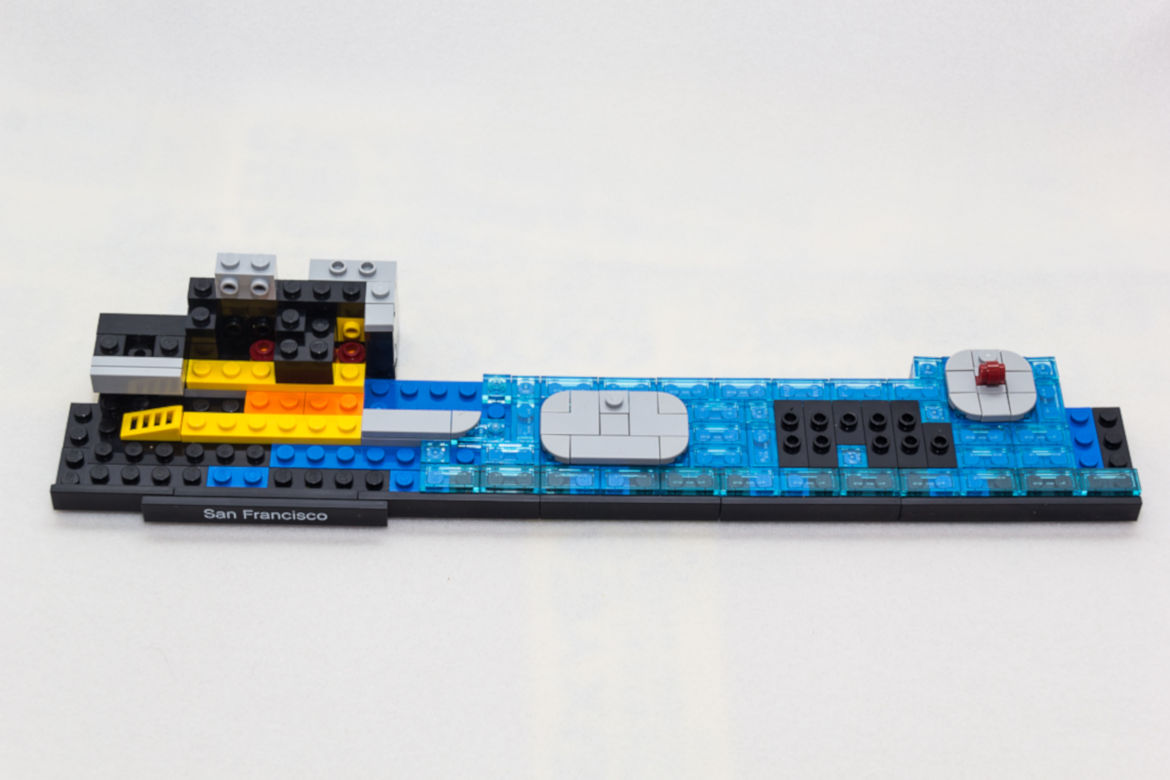 In 3 sections the skyline finally takes shape. Section one deals of course with the "foundation". Here you can already see that the construction techniques used are sometimes unusual. But this way the desired microscale is achieved wonderfully.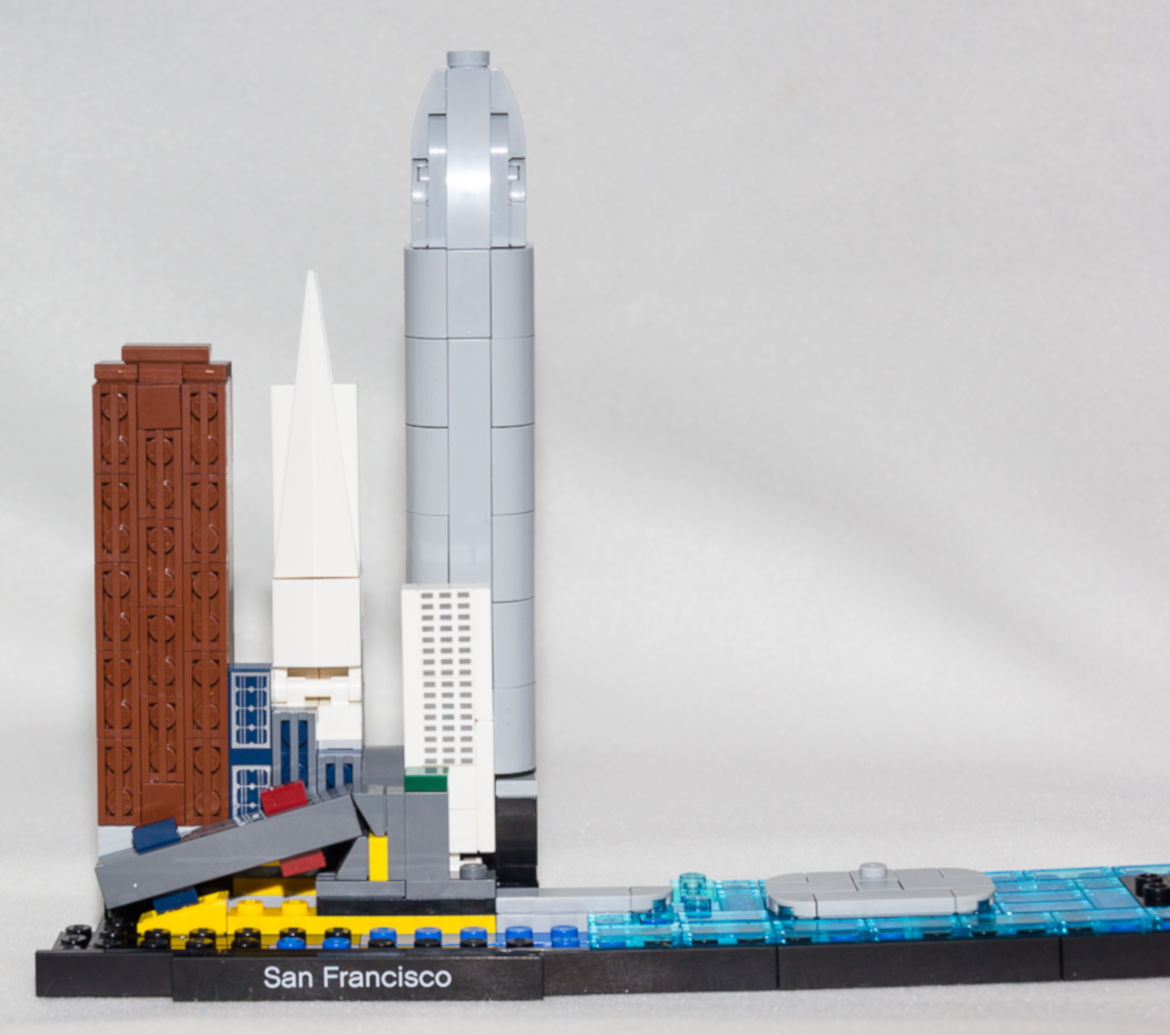 In section two the buildings on the left are built, without abundant use of Snot (Stud not on top) bricks this would hardly be possible and offers also for already experienced Lego fans suggestions and ideas for own conversions.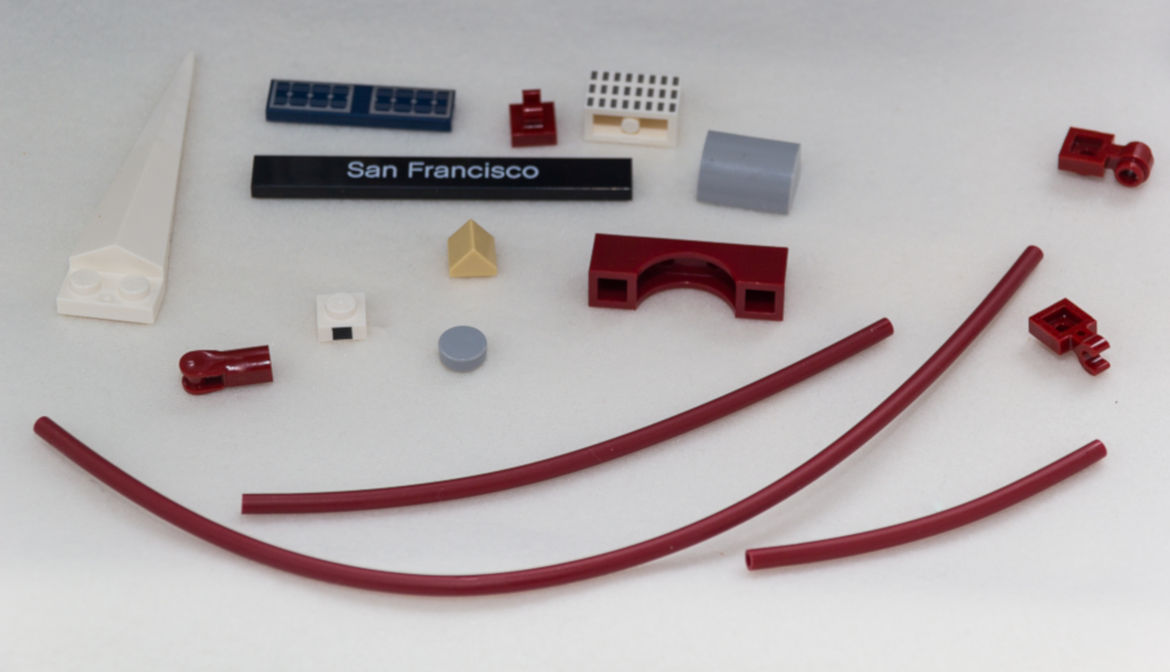 Special/rare/new parts 1. 6202501 1x1 Plate with print on side, previously only in 2017 Ninjago City, currently still in 21044 Paris and 21152 Minecraft Pirate Ship 2. 6253517 1x2 Brick with window print - NEW- 3. 6253234 2x8 Spike, first time and exclusive in white, soft top 4. 6215341 1x3 Tile with Solar Cell Print, Was previously only in 21312 Women of Nasa 5. 6230284 1x2 Roof Tile in Brick Yellow, otherwise only in 2018 HP Hogwarts sets 6. 6253221 1x8 Tile Black with Print "San Francisco", new and exclusive 7. 6284071 1x1 Round Tile, new in Light Bluish Gray 8. 6227184 1x2 Brick Half Bow in Light Bluish Gray, with 24 pcs, was more often (44) only in the 10262 Aston Martin 9. 6256143/44/45 Cable in 64/112/208mm, new in Dark Red 10. 4539060 1x Tile in Dark Red 11. 6131833 Lamp Holder in Dark Red 12. 6146854 1x4 Brick Bow in Dark Red 13. 6253170 1x1 Plate w. Holder in Dark Red 14. 6253169 3.2 shaft in Dark Red 15. 6253167 1x1 2er Snot in Reddish Brown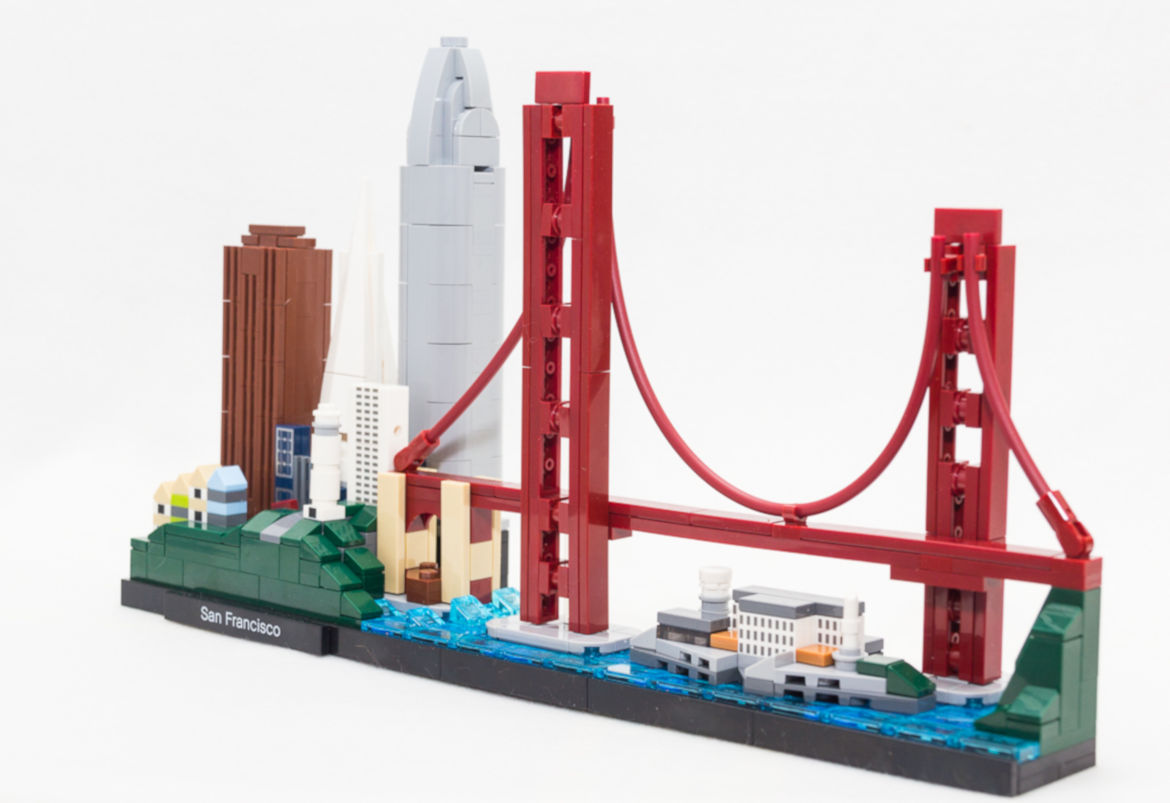 The highlight, the Golden Gate Bridge, has been saved for the finale. Many new parts in Dark Red are used to build a simple bridge, but still corresponding to the original. It's a pity that the piers are not built on both sides. Due to the Salesforce Tower the base plate protrudes to the back without, there could have been a row of studs for the pillars.
Conclusion to the Lego Set 21043 San Francisco
The result is nevertheless impressive and should be an enrichment for every fan of microscale, architecture and last but not least for all those who have an association with San Francisco.
---
Rate "
LEGO® 21043 San Francisco

" & HAVE THE CHANCE TO WIN A 25 EURO GIFT CARD
We need you & your LEGO expertise! Since you are surely a LEGO expert like us, we would be very happy if you would leave us a review for LEGO® 21043 San Francisco here. As a thank you, you will automatically be entered into a monthly prize draw to win a €25 voucher - so hurry up and write us your review now! Here you can find the winners of the last months.